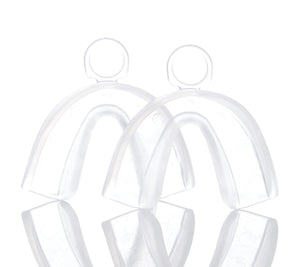 Custom Mouth Trays Moldable
Regular price
$5.00
Sale price
$9.99
Unit price
per
Custom Moldable Mouth Trays

Easy to Mold
Soft
Comfortable customized fit
Great for use with our Sparkle White Teeth Whitening Kit

New heat and form design is thicker at the legs and at the base of the tray. This keeps the trays from sticking together when heated. Heat and form trays separately. 
Included: One set of custom moldable mouth trays (for use with our Sparkle White Teeth Whitening Kit)
Add-on a second set of trays to your order for only $5 or purchase a replacement if needed. 

Instructions:
Bring 4 inches of water to a boil, remove from heat and cool for 6 minutes. 
Submerge one of the mouth trays into the hot water for 10 seconds or until the tray appears soft. Important: for best results do not overheat mouth trays. 
Place the mouth tray into your mouth, covering your upper teeth. Close your mouth, suck all the air and excess water from the tray, creating suction between the tray and your teeth.
Gently push the tray against the front of your teeth by pressing against your upper lip. Wait 15 seconds before removing the tray from your mouth. 
Repeat steps above for lower mouth tray.
After molding both trays, use scissors to cut any excess material from the gum line. This will help to avoid any possible gum irritation. Use scissors to cut the finger tabs from both trays. When adding gel be sure to add just enough for the tooth, you do not want to get gel on your gums, if you do use the vitamin e swab to remove it from the gums or rinse your mouth thoroughly right away.
---
Share this Product
---