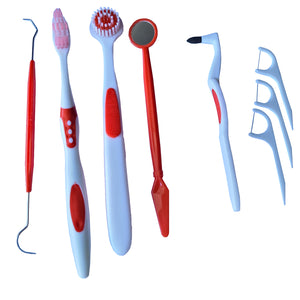 Teeth Whitening Preparation Kit
Regular price
$4.99
Sale price
$6.99
Unit price
per
Teeth Whitening Preparation Kit

Get your teeth sparkling and beautiful for the world to see. Clean, pick, erase stains and more.
The set is essential to use prior to whitening your teeth.
 


Includes Tooth Brush, round tongue brush, tooth pick tool, stain eraser, 3 toothpicks with floss, & Mirror

Great start to cleaning your teeth and keeping them well. Check up on your teeth regularly between dental visits. Be careful with your gums. Check with your dental professional with any concerns.

Color will vary.

FDA: This product is not intended to prevent or cure any disease or issues.

If you experience any discomfort discontinue use. Be gentle and consult your dental professional for any questions on your personal care.
---
Share this Product
---